Experience the Luxurious 2022 Cadillac Escalade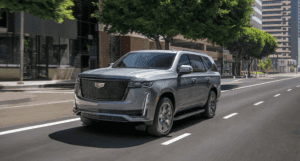 If you are in the market for a full-size, luxury SUV, you should choose the original: the 2022 Cadillac Escalade. Nobody does it better than Cadillac, with this exceptional vehicle, equipped with all of the premium infotainment and safety features you never knew you needed.
Starting at $76,295, the 2022 Cadillac Escalade is available right here, at Zeigler Cadillac of Lincolnwood.
2022 Cadillac Escalade Performance
This vehicle isn't just beauty and brains, but also shows its brawn when it comes to the impressive engine performance. This full-size luxury SUV dominates with a standard 6.2-liter V8 engine that cranks out 420 horsepower and 460 lb-ft of torque. All that power allows for towing of up to 8,100 pounds.
2022 Cadillac Escalade Interior Design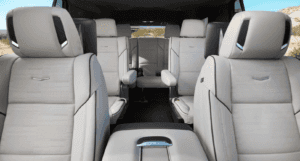 One of the most spectacular updates to the 2022 Cadillac Escalade is the curved OLED digital dashboard, featured prominently across the entire interior of this premium SUV. Intelligently organized and fully equipped, this infotainment screen sets a new standard.
Make this luxury SUV everything you have dreamed of in a vehicle with a stunning ultraview sunroof and available ambient lighting. Go all-in with such remarkable updates as a modular center console that can become a small refrigerator for the best road trip ever.
2022 Cadillac Escalade Safety and Tech
This vehicle continues to push the boundaries for technology, debuting the cutting-edge Super Cruise hands-free driving feature in this model year. Fully outfit your 2022 Cadillac Escalade with an available 36-speaker sound system and rear seat entertainment package.
In addition to exciting entertainment options, this vehicle also offers leading safety features for peaceful driving. The 2022 Cadillac Escalade is equipped with the OnStar navigation and safety integration as well as Teen Driver mode to support and monitor the new drivers in your family.
Head to Zeigler Cadillac for a Test Drive
If you're in the market for a new Cadillac vehicle, there's no better option than the 2022 Cadillac Escalade. Head into our Cadillac dealership in Lincolnwood, IL for a test drive so you can fully understand this premium driving experience. Get in contact with our team of Cadillac dealers today!